Holiday Inspired Makeup Tutorial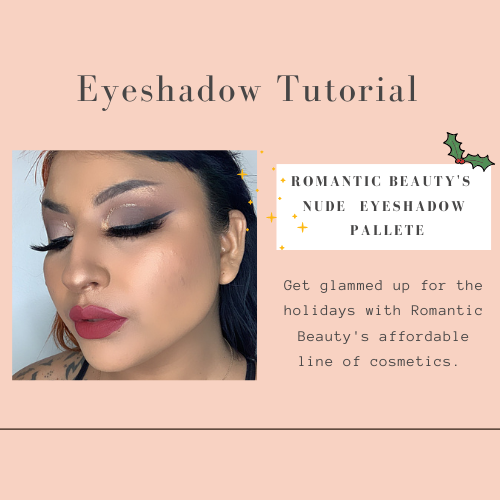 Holiday Makeup Tutorial 1: 
Tis' the season to be jolly, Tis' the season to show off your holiday-inspired makeup creations! 
Give the holiday lights some competition with the following tutorial featuring some of our favorite Romantic Beauty products to take your festive makeup look to the next level! 
What you'll need:
Your favorite primer, foundation, concealer, contour, highlight and blush, and setting powder.
Romantic Beauty's liquid Pearl eyeliner in "Smoky Topaz" 

Romantic Beauty's Long-Lasting Magic Dip eyeliner

Romantic Beauty's Exquisite eyebrow pencil in your desired shade. 

Romantic Beauty's Super Long-Lasting Waterproof Mascara 

Romantic Beauty's Fashion Matte liquid lipstick in "Garnet" 

Romantic Beauty's Nude eyeshadow pallet.
Step one: EYES 
Always start with eyes! Eyeshadow can sometimes create fallout, which collects around the undereye and can ruin your foundation when you try to dust it off. 
Use the Exquisite eyebrow pencil's angled tip to fill in your brows to the desired finish. 
Prime your eyes with your favorite eyeshadow primer and set with your go-to setting powder. With a fluffy blending brush, take the shade "Clever" of Romantic Beauty's Nude eyeshadow pallet and apply it on your crease using windshield wiper motions. This is what we call a "transition" shade. Once that is smoothly blended upwards, take a shorter, pointed blending brush and apply shade "Craze" into the outer "V" corner while blending upwards for a smooth transition of shades.Go back with the first shade and brush and blend. Repeat these two steps until you achieve a perfect blend of colors. Take a concealer brush and "cut" the crease halfway to create the appearance of a larger lid. (Skip this step if you already have larger lids.)  Use the previous two shades to blend away any harshness the concealer created. With a flatter eyeshadow brush, take shade "Darling" and place it over the lid, carefully blending into the outer "V." Use the shade "Clever" to blend out any harshness. 
Take Romantic Beauty's non-flaking glitter Pearl liquid eyeliner in shade "Smoky Topaz" and use the fine-point tip to effortlessly apply the glitter liner over where you cut the crease. Only apply the line halfway above the crease to make the eye pop.
Use Romantic Beauty's Long-Lasting Magic Dip eyeliner to create a perfect eyeliner wing with its felt-tip brush for a precise matte finish. The quick-drying formula will deliver a no-smudge eyeliner application that won't ruin your eyeshadow! 

Holidays make you emotional? No worries! Romantic Beauty's Long-Lasting Waterproof Mascara has you covered with a waterproof volumizing formula that will give your lashes a fuller effect! If you like false eyelashes, pop those on top for a more dramatic finish.

Use shade "Fierce" from the Nude" pallet in your inner corner for an extra sparkle. 
Step 2: Face
Now that your eyes are poppin', let's move on to the rest of the face! 
Use your favorite primer and apply it to the face in rotating motions. For longer-lasting results, use a primer suited for your skin type. Color-correct any problem areas such as dark circles, redness, or skin discoloration.

Take a dense foundation brush and apply your favorite foundation, then take a makeup sponge to smooth out any lines the brush may have left behind.

Apply a lighter shade of concealer under your eyes, and everywhere else you want to highlight. Blend.

Use your favorite contour shades to sculpt your face to the desired finish, starting with the cheekbones, then the nose and forehead area. 

Use a setting or translucent powder to "bake" your face for a longer-lasting makeup application. Bake under the eyes, forehead, and under cheekbones for a more sculpted effect. If you have dry skin, skip this step and instead only lightly brush powder on decided areas. 

After about 5 minutes, remove the powder with a fluffy brush and follow up with your favorite blush and/or bronzer to give your face some warmth. Make sure to use back-and-forth motions on the cheekbones for a perfect blend slightly above the contour. 

Use a fan or flurry highlighting brush to give the highest peaks of the face more shimmer where natural light reflects.
Step 3: Lips
With assorted collections of our long-lasting matte lipsticks, you'll always have one to perfectly compliment any makeup look! Use a lipliner two a shade or two darker than your lipstick color of choice to line the lips for a fuller effect. Take Romantic Beauty's Fashion Matte shade in "Garnet" and use the convenient wand to effortlessly apply our quick-drying formula on your lips. Our lightweight formula is transferproof for minimal reapplications regardless of how much you eat, sip, or kiss this holiday season! 
Lastly, use a setting spray to baptize your holiday look and take flawless selfies while tagging us using the hashtag  #RMBabes for a chance to be feaured!  You'll receive more compliments than presents with this holiday-inspired makeup look and SLEIGH the makeup game while falling more and more in love with Romantic Beauty