Mask-Proof Makeup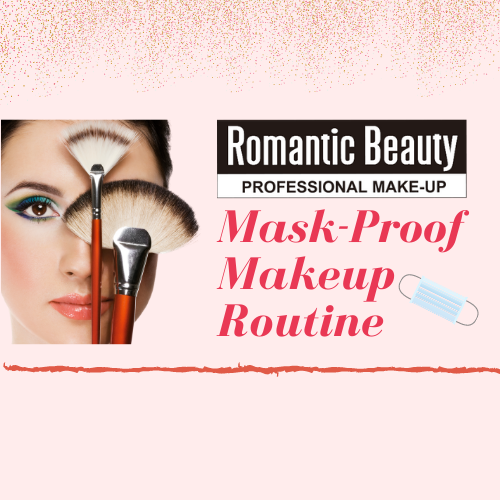 Quarantine during this pandemic may have us losing our minds, but it doesn't necessarily mean we have to also lose our glamour. While we may often feel discouraged to put on any sort of makeup because of inconvenient protective masks covering half our faces, let's look at the brighter side of things! We can focus on our eyes and deliver fierceness with every glance! 
With the following tutorial, you'll slay the run to the supermarket and any other errands, without looking like a smudged clown after taking your mask.
What you'll need: 
Your favorite primer
Tinted BB Cream or Light-Coverage Foundation
Concealer
Romantic Beauty's  Exquisite brow pencil
Romantic Beauty's 2-in-1 eyeliner and mascara
Romantic Beauty's Gloss! Matte liquid lips
Setting Powder/Spray
Step 1: Eyes 
Our eyes are our only forms of expression while wearing a mask, so let's capitalize on that while making them POP even more with looks that will break people's necks.
Use the "Exquisite" eyebrow pencil's angled tip to fill in your brows to the desired finish. 

Take Romantic Beauty's "Nude" Pallet and dip into shade "Fervor" with a precision blending brush and pack it on the outer corner of the eye, also referred to as the outer "v" corner. 

Use a fluffy blending brush with shade "Fever" and blend it with the last shade in circular upward motions towards the crease. Go back with "Fervor" and reapply for intense color payout. Blend upwards with "Fever" again. Repeat these steps until you have a smooth blend of the to colors with no harsh shadow lines.

Take shade "Kinky" and apply it on the lid with a flat eyeshadow brush. For extra shimmer results, "foil" the shadow by lightly wetting the brush with setting spray before dipping into the color. 

Take out convenient 2-in-1 eyeliner and mascara and use the felt-tip eyeliner wand to effortlessly create a long-lasting winged eyeliner over the shadow. Then, apply three coats of the clump-free volumizing mascara to give your eyelashes a fuller appearance that will complete the look. 
Step two: Face 
As always, priming your face with the appropriate primer for your skin will always deliver long-lasting effects. Clean your hands with our

vitamin E infused sanitizers

before applying any makeup to avoid the much-dreaded maskne (

acne from wearing masks

). 
In times of pandemic, there's no need to use high-end full coverage foundations just to run some errands wearing a mask. Any tinted B.B cream or light coverage foundation will even out your complexion without feeling cakey. Follow up with a similar formula concealer that doesn't crease to cover any imperfections like dark circles or acne marks. 
Lightly pat setting powder over the entire face to make your foundation transfer-proof. No contour, blush, or highlight is necessary under the mask, but is optional if you want the full glam. Finish off by spraying your favorite setting spray to seal the makeup in place.
Step 3: Lips
Though it's clear the bottom half of your face is hidden under the protective mask, if you take it off every once in a while like at your job desk, a non-transfer lipstick is also required! At Romantic Beauty, long-lasting transfer-proof lipsticks might as well be our middle name! With any of our matte liquid lipsticks, your lips will remain intact regardless of how long you wear your mask for! Effortlessly glide on any of our matte-finish liquid lipstick formulas for transfer-proof mask-tested results.
Lastly, If you hate face masks and don't want to give up on the full face glam, Romantic Beauty also sells anti-fog clear-view face shields that protect your face while making your face visible for everyone to appreciate your flawless makeup looks.