10 Tips for Beginners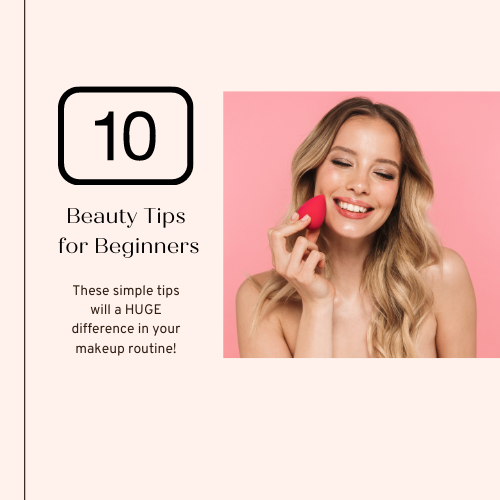 It seems that with every day that goes by, a new makeup trend is on every social media's discover page. With so many influencers creating advanced makeup hacks, it is important to remember one must master the basics before jumping into the ever-changing techniques of the beauty world. With these beginner makeup hacks, you'll elevate your makeup game and soon be up-to-date with every new makeup trend!
Skin care before makeup!  
Perhaps the most important step of the makeup application is one not a lot of people consider! While makeup primer absolutely helps achieve long-lasting results, a freshly clean face is the equivalent of a clean canvas for any artist. Before applying any primer, you should always cleanse your face with a face wash adequate for your skin type, follow it up with toner, any serums, and of course, sunscreen and moisturizer. Applying makeup on a face that isn't cleansed can be counterproductive, and oil can build up faster and clog pores leading to acne and imperfections. Who wants those!?
Choose products for your specific skin type!
Another important factor in achieving long-lasting results, is using products compatible with your skin type!
Dry skin:

As listed in the first tip, MOISTURIZE! MOISTURIZE! MOISTURIZE! After proper skincare, use a hydrating primer as well as a dewy-finish foundation. Lightly pat translucent powder over your face, but avoid "baking" your makeup, as this would absorb all the oils in the foundation and give you an even dryer appearance. Finish off with a hydrating setting mist and reapply throughout the day as you start to feel dry. 

Oily skin:

Again with the skincare first, only this time we focus on toner! Use toner to remove excess oils before using a mattifier or mattifying primer to help reduce oil buildup. Continue with a matte-finish foundation and set your makeup with powder. For extra oily skin, "baking" the  makeup with banana powder is recommended as well as carrying anti-blotting paper to get rid of excess oil to keep your makeup intact for long-wear occasions. 
Combination skin:

It's possible you are dry in some areas, but oily in others. Most commonly, people get oily on the "T-zone" of their face, which includes forehead, nose, and chin area. For this specific issue, use skin care and primer in spot treatments and follow up with your foundation of choice. Whether you like a matte or dewy finish, make sure to focus "baking" only over oily areas. 
Normal skin:

Perhaps you're a teenager or just one of the few lucky people with normal skin. Congratulations! Simply focus on following a desired skincare routine and lean towards sheer-coverage foundations. However, it is important not to excessively use powder over your foundation, as this can create a cakey finish and actually create texture on the skin you initially didn't have. 
 

Color Correct!

You may have found yourself in a makeup aisle wondering about those colorful concealer-style tubes, as you don't know anyone with red, green, or purple skin. Those are color correctors and though nott completely necessary, they can help achieve an even-toned complexion under the foundation. 
Green: Neutralizes redness! If you have acne scars, a green color corrector can cancel out the redness before applying foundation. 

Blue: Cancels out hyperpigmentation on fair-to-medium skin tones.

Orange/red: Neutralizes dark circles on medium-to-deep skin tones. The darker the skin tone, the redder the corrector should be. Most useful for under eye dark circles and dark creases around the lip area. 

Pink: Brightens and neutralizes discoloration on rosy undertones. 

Yellow: Corrects mild redness on lighter skin tones and cancels blue and purple tones. 
 Remember a little goes a long way when using color correctors! If you use too much of one  color, foundation won't be able to cover it and you will be stuck in a never-ending cycle of color correcting. 
Contour and highlight according to your face shape!

Though invented by the drag queens and the LGBTQ+ community, the art of highlighting and contouring to sculpt defined features was appropriated and made most popular by the Kardashians. While everyone claims cheeks, nose, and forehead are a must when contouring, this doesn't necessarily compliment every face shape. For example, if you already have defined cheekbones and a chiseled jawline, adding more contour to those areas would make you look like a Tim Burton character.
 If you don't have a big forehead, contouring around your hairline will only make your forehead look disproportionate. If you don't have a button nose, drawing parallel vertical lines over your will only give it an elongated effect. For bigger noses, contour under the nostrils and draw a line  from one top nostril to the other and blend out of a "button nose" effect. 

If you have a big nose, don't highlight the bridge, as this will only bring more focus to it. Instead, focus on highlighting the cheekbones lighty on the tip of the nose where you created the "button nose" effect.. Lastly, swiping contour powder on your double chin is not going to make them go away. On the contrary; if you add a darker contour tone around your jawline, you'll only be undoing your foundation color-matching and now your lower jawline and neck won't match the rest of your face. 

Apply contour on cheeks with back and forth motions starting from the hairline towards your lips. For blush, from apple of the cheeks in circular motions towards the hairline.
Do eyeshadow before foundation!

While it's okay to prep the face completely, starting your makeup routine with the yes is crucial, especially if planning on using more than one eyeshadow.
Eyebrows: By starting with the brows first, you know just how much room you'll have to place your eyeshadow, and you can use the concealer you used to sharpen the brows as a base for your eyeshadow to apply more vibrant. 

Eyelids: Always prime your eyes! Either with concealer or eyeshadow primer, having a base for the shadows to stick will increase their pigmentation payoff and guarantee long-lasting results. 

Should there be fallout from blending multiple eyeshadows (most of the time there is), you can simply wipe it off with makeup remover or moisturizer without having to ruin your foundation and under-eye concealer had you started with the face first.
Follow the cool-tones/warm-tones rule!

It's easy to look at a makeup pallet and just randomly pick which colors you'd like to use for a certain look. However, it's important to keep in mind that cool-toned eyeshadows compliment and blend better with other cool-toned shadows. The same goes for warm tones both matte and shimmer finishes.For example, if you're using a warm-toned brown shade as an outer corner color, you should also use a warm light tan to transition and blend out. Most importantly, you'd pair that with a warm, copper-tone shimmer and NOT a frosty silver. Open up your favorite pallet and start recognizing the warm and cool tones and notice the significant difference this makes!
Apply colorful eyeshadow different from neutral eyeshadow!

For better long-wear results, the application of eyeshadows really depends on whether you're using colorful or neutral tones.
Neutrals: When planning to achieve an eyeshadow look using neutral shades, setting your concealer or primer base with setting powder is the best way to start. After lightly using setting powder on the lid, lay your transition color first with a larger fluffy brush, and then a shade at least two shades darker in the outer corner of the lid with a smaller brush. Blend upwards to merge into the transition shade, and repeat the steps until desired blending payoff. On a flat brush, take a shade lighter than the initial transition color, shimmer or matte, and place it on the rest of the lid. Use outer corner shade to blend inward with the lighter color until harshness disappears. 
Colors: With vibrant color shadows, you never want to set your base with powder, as you want the colors to be as vibrant as possible on the sticky base. With a smaller pointed blending brush, apply your darkest color in the router lid first, and then using a precise blending brush with a lighter shade to blend the darker color upwards for a smooth transition. Repeat this process until you obtain the desired color blend. With a flat brush, use a lighter matte or shimmer eyeshadow on the rest of the lid, properly blending into the outer corner shade.
You can say the steps are backwards depending on the tone of shades you wish to use, and while you may feel safer with neutral colors, remembering these important steps will make vibrant color shadow application much easier should you ever want to try it. 
When in doubt, blend it out!

Whether it be foundation, powder, or eyeshadow, it is important to blend until your arm feels like it might fall off.
Eyes: Even if you ignore the tone-matching rule or don't follow the recommended steps for shadow application, any makeup look will be okay as long as you blend! Focus on smooth transitions of color and blending out any harsh spots in the outer corners for a more appealing look.
Face: Foundation should be blended (AND MATCH) the neck area and contour should give the appearance of more defined features without an obvious harsh brown line across your cheeks. Same applies to blush and highlight! All face products should compliment each other without looking like neapolitan ice cream on your face. 
Use lip liner!

No, you don't have to be

chola

to rock lip liner! Using a lip liner a shade darker than the lip color can sculpt the lips and give an ombre effect while also preventing running color and smudging. 
 

It's all about the brushes!

You can have the best-quality cosmetics in the market, but if you're not using the proper brushes, you'll never create a perfect glam. Every step of the makeup process consists of a different brush. Starting with a simple kit is good enough until you learn to differentiate them and have preferences depending on your eye shape. Synthetic brushes are perfect for use with liquid and cream products, while real hair brushes are only for powder cosmetics as they will be damaged by the moisture from cream and liquid products.
Small flat brushes: Perfect for correcting eyebrows with concealer and placing eyeshadow on the lid and even applying lipstick. 

Small angled brushes: Serve to shape eyebrows or do winged liner.

Big flat brushes: Used for concealer application 

Fluffy brushes: Possibly the most important brush, you'll definitely want to have multiple. Usually used for blending eyeshadows, can come in small and pointed for precision blending, ot bigger to cover more blending space. 

Pointed pencil brush: These brushes usually have a dome-like top, but some are more precise than others for under-eye and inner corner makeup application and blending. 

Thin liner brush: Straight or angled, thin-tipped brushes are perfect for effortless eyeliner wings and precise glitter application. 

Big dense face brushes: Usually serve to apply liquid foundation with minimal streaks.

Big fluffy brushes: Fluffy face brushes are for powder products. The bigger the brush, the more space it can cover. 

Angled tapered brush: Used to apply precise contour on desired areas.

Fan brush: Usually used to place highlighter on cheekbones and adobe the brow bone for ultimate precision. 
Even if you can't get your hands on so many brushes right away, start with at least a small flat brush and a couple of blending brushes to get a better shadow application. DITCH THE DISPOSABLE COTTON SWABS AND STOP USING YOUR FINGERS!
Breathe in! Though this was a lot of information to take in, keep it in mind the next time you sit down to do your makeup and see just how much your makeup application improves! Don't forget to tag us in your makeup creations using our high-quality cosmetics with the hashtag #RMTBabes for a chance to be featured in our instagram and future blogs!