TRANSFER-PROOF YOUR MAKEUP WITH BANANA POWDER + PERFECT STAY SETTING SPRAY!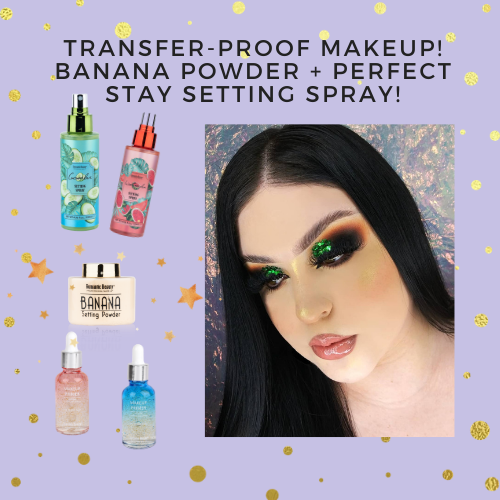 As we are required to continue to wear protective masks amidst a pandemic, yet have more liberties to go out and socialize, transfer-proofing your makeup is more important than ever. As you take your mask on and off throughout the day, you want your makeup to stay on your face and not on your mask and Romantic Beauty has all the products to make it possible!
1) PRIME! 
Making sure you achieve long-lasting makeup results starts before the actual makeup application. After completing your skin care routine, take our luxurious 24K Primer and lightly apply it all over your face to make it a perfect canvas for your makeup. The liquid formula effortlessly applies without the sticky feel and simultaneously hydrates your skin. Set of 2: $18
 The beautiful @diana_beautymkup trusts our 24K liquid primer to ensure an effortless makeup application for smooth flawless results! 
2) SET WITH POWDER (BAKE) 
 So you got your foundation and concealer on? Great! To make sure your foundation stays locked on your face and not on your mask, clothes, or someone else's clothes (Yikes!), use a brush or beauty sponge to tap Romantic Beauty's banana powder all over your face and lightly pressing it into the skin. By pressing it all over your face, you guarantee longer-lasting makeup results while achieving a non-drying matte appearance. If you have normal-to-oily skin, you can use more powder in the oily areas of your face in order to avoid creasing and to blur out any imperfections. 
Romantic Beauty's lightweight banana powder can also be used to highlight over concealer and sharpen up your contour by strategically pressing the powder along the contours of your cheeks after applying your favorite contour shade in either cream or powder. $6 Each.
 Popular influencer @melissamuartista sets her makeup with Romantic Beauty's Banana Powder for a flawless airbrush finish!
3) BAPTIZE YOUR MAKEUP LOOK WITH PERFECT STAY SETTING SPRAY!
Your makeup application is finished and you love it! To give your makeup look a final blessing, spray on a refreshing aromatic mist with Romantic Beauty's Perfect Stay setting spray! Available in five hard-to-resist scents, our setting spray helps absorb excess oil while leaving the skin dewy and refreshed. By using a setting spray on top of setting powder, you achieve ultimate transfer-proof results for those annoying mask moments. As summer approaches and the sun intensifies, trust the Perfect Stay setting spray to avoid your makeup from melting off your face. Extra oily? No problem! Perfect Stay setting spray is a perfect size to throw in your purse for a refreshing reapplication throughout the day! $8 Each.
Creative makeup artist @daisymakeup.8 sets all her makeup creations with our Perfect Stay setting spray in the scented "watermelon"! 
You can sign up to our email newsletter for a 10% off code to get everything you need to seal and transfer-proof your makeup in a variety of long-lasting waterproof formulas. Don't forget to tag @RomanticBeautyUSA in all your looks featuring our products for a chance to be featured in our social media as well as possibly collaborate with our brand!