Full Glam Feat. Wanderlust 32-Color Eyeshadow Palette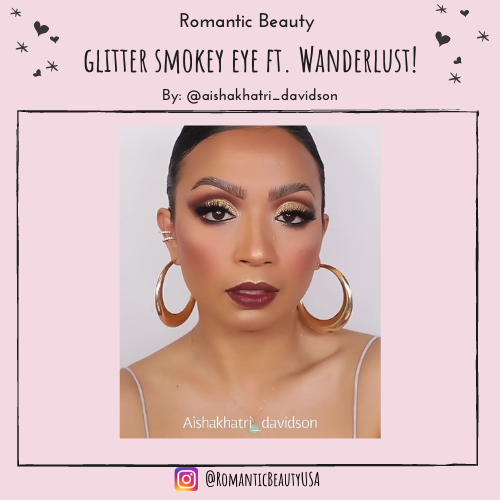 Since the release of our Celestial collection, both our influencers and customers rave about the high quality and hyper-pigmented eyeshadows in both the Supernova and Wanderlust palettes. With a variety of both muted neutrals and vivid bright eyeshadows, the Celestial collection caters to all makeup enthusiasts and delivers the easy-to-blend pigments that ensure an effortless long-lasting full glam for both day-to-day and special occasions. 
Our Romantic Beauty Babe @aishakhatri_davidson used the Wanderlust eyeshadow palette to create a jaw-dropping gold glitter smokey eye to perfectly pair with our long-lasting Love Matte lipstick. To achieve this full glam look, check out the steps below! 
Step 1: Prime the eyes!
Though our Wanderlust palette offers an ultra-pigmented eyeshadow formula, eyeshadow primer is always recommended and highly encouraged in order to guarantee long-lasting results and showcase ultimate vividness of every shade. 
Step 2: Outline the crease! 
To give your eyes an elongated and wider appearance, take shade "Eclipse" in a small pencil brush and start winging it outward starting at the bottom lash line. Once you reach the desired length. start packing the shade above the crease and connecting it back to the wing for a cut-crease shape. With a fluffy blending brush, lightly blend out any harshness using a circular motion to start a smokey effect.
Step 3: Transition shade and dimension! 
Take shade "Pluto" in a fluffy brush and blend above "Eclipse" for a smooth transition between shades. To deepen the crease and give your eyes dimension, take shade "UFO" and pack it over "Eclipse" in back-and-forth motions while also packing it in the outer "v" while lightly blending upwards. This three-color combination immediately sculpts the eye and sets the perfect border for the shimmer shade. 
Step 4: Cut half the crease, deepen some more!
To clean up the look and make the perfect base for the shimmer shade, take your favorite concealer on a small flat brush and cut half the crease. Using shade "Black Hole" in a small fluffy brush, pack in outer "v" blending it over "UFO" and lightly transitioning it into the lid.
Step 5: Add shimmer shade and tight line! 
Using a small flat brush, take shade "Orbit" and pack it all over the inner and middle lid, stopping before the outer corner. Take "Black Hole" again and lightly blend into the glitter shade for a smooth transition. With the same shade on a smaller brush, tight line over the lash line to eliminate the need for eyeliner and prep it for false lashes. 
Step 6: Bottom lash line, rest of face, and Lips
Using all the same eyeshadows used on the lid, use a smaller brush to pack and transition the shades on the lower lash line to finish off the eyes. After applying foundation and desired face products as usual, take your favorite Love Matte cream lipstick and glide it all over the lips to put the cherry on top of a mesmerizing full glam! To guarantee all-day transfer-proof results, use our scented Perfect Stay setting spray that leaves the face hydrated while absorbing excess oils!
Our versatile palettes and high-performing cosmetics can purchased on our website with a 10 percent discount when you sign up to our mailing list, or conveniently on our Instagram shop! 
Don't forget to tag @RomanticBeautyUSA in all your looks featuring our products for a chance to be featured in our social media as well as possibly collaborate with our brand!