Keep Your Lip Gloss Poppin'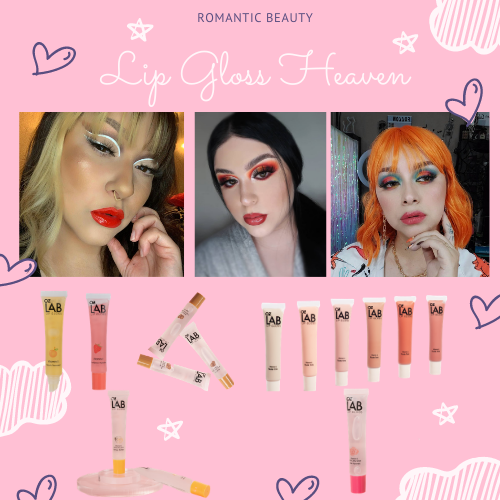 Whether you want a hydrated pout or want to show off high-shine lips, lip gloss has always been an essential day-to-day item that never goes out of fashion. From little clear and shimmery plastic tubes to now more refined packaging and a variety of tints, lip gloss has evolved to play a bigger role in the makeup application process. 
Romantic Beauty offers a variety of lip glosses for everyday use, as well as tinted lip glosses to add a fuller appearance and show off a shiny lip! With angled tube and wand applicators, our glosses offer a non-sticky comfortable wear that lasts for hours.
Scented Vitamin E Lip Gloss 
Available in five alluring aromas, Romantic Beauty's scented lip glosses are infused with vitamin E to drench your lips in moisture and leave them smooth as they provide a glossy-lip finish.
Scents: Honey Butter, Rose, Argan Oil, Strawberry, Peach. 
Tinted Lip Gloss
In six tinted nude shades, adding both color and shine only takes one swipe! These lightly-scented shades are also infused with vitamin E to hydrate your lips while providing a fuller lip appearance to compliment every skin tone!
Unscented
Because we know a lot of beauty lovers are sensitive to scents and additives, Romantic Beauty offers two unscented lip glosses to use without a worry of any negative reactions. Like the others, these lip glosses are infused with either Aloe Vera or Vitamin E, to leave your lips moisturized as the high-shine effect sits comfortably on the lips.
How to Wear
Our influencers LOVE to pair our hydrating lip glosses over their favorite matte lipsticks for a dramatic glossy finish. Just wait for your matte lipstick to dry before swiping our gloss over your lips!
Our lip glosses can purchased on our website with a 10 percent discount when you sign up to our mailing list, or individually on our Instagram shop! 
Don't forget to tag @RomanticBeautyUSA in all your looks featuring our products for a chance to be featured in our social media as well as possibly collaborate with our brand!