Insta-Ready Brows with Romantic Beauty!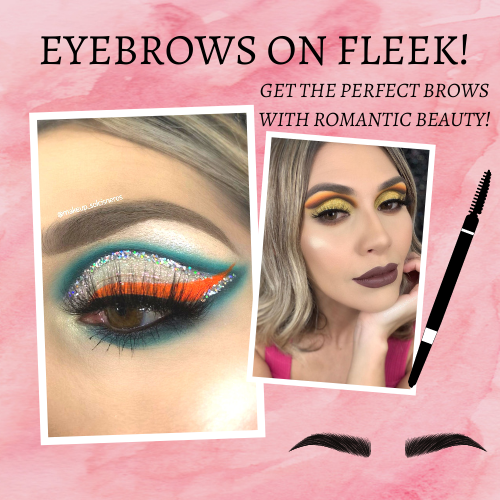 Throughout the years, eyebrows have gone through their fair share of changing styles, often based on diverse cultural backgrounds and fashion trends. To help keep up with trends, eyebrow products have also evolved to cater to all eyebrow styles and provide ultimate flexibility to create a variety of eyebrow shapes. Romantic Beauty offers eyebrow-sculpting products that deliver high-pigment wear and effortlessly create soft to bold Instagram-ready brows for every occasion without spending the high prices often attached to most eyebrow products. 
Pencil Brows: 
Eyebrow pencils are best for those with normal-to-full bows, as you can fill In sparse areas and mimic hair-like texture or just help shape the brow .Romantic Beauty's LUX Ultra Thin eyebrow pencil comes In three shades and provides ultimate precision and natural glam. Just lightly make short strokes in the direction of your natural brow hair until you create your desired finish! 
If you prefer angled-tip eyebrow pencils for ultimate precision and sharp arcs, Romantic Beauty's OG eyebrow pencil "Exquisite" comes in three natural shades that compliment various complexions without leaving heavy wax residue on the brows. The perfect angled tip helps effortlessly fill in brows in the same direction as natural hairs, as well as cover more space for a faster application. 
 Eyebrow Gel: 
Eyebrow gels and pomades provide the best versatility as they can shape both bold and natural brows! Romantic Beauty's smudge-proof eyebrow gel comes In three natural shades with an angled brush and spoolie to sculpt brows to your desired finish!
Simply use the spoolie to tame the eyebrows and dip the angled brush into the waterproof eyebrow gel to start sculpting the brow to your desired shape. Available in three shades, finding the perfect tone for your complexion will be as easy as the application itself. 
 Gel + Eyebrow Powder: 
Mixing eyebrow gel and powder helps perfect the popular ombré eyebrow effect for ideal Instagram-ready brows! Romantic Beauty's 2-in-1 gel and powder give you ultimate versatility to create various eyebrow shapes for different types of glam! Start by shaping your natural brow with the gel, concentrating on the tails of the brows, and then fill in the front with powder for a more natural brow appearance. For feathered-style brows, tame the brows upwards using the spoolie, and make upward strokes to fill in the brow. 
Instagram influencer @makeup_SolCisneros loves our new eyebrow gel and creates perfectly-sculpted eyebrows to compliment her amazing eyeshadow looks! You can sign up to our email newsletter for a 10% off code to get those eyebrows on fleek, in a variety of long-lasting waterproof formulas. Don't forget to tag @RomanticBeautyUSA in all your looks featuring our products for a chance to be featured in our social media as well as possibly collaborate with our brand!