ROMANTIC BEAUTY'S LUX COLLECTION FT. @GLAMBYLUPYS_!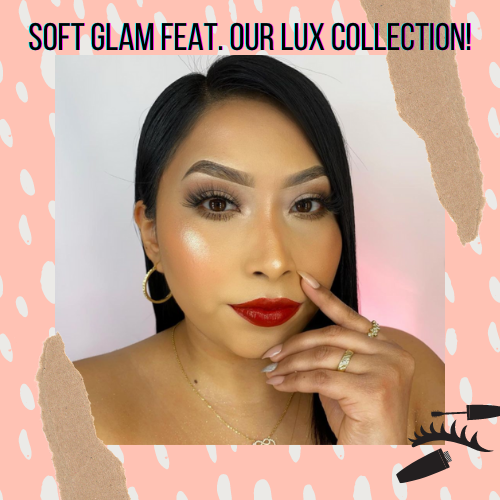 While all of our collections are high-performing and pack professional-quality cosmetics, our limited edition LUX collection features amazing items that reflect Asia's makeup scene!
In this mini-tutorial, Instagram influencer @glambylupys_ uses cosmetics from the collection for a drop dead gorgeous soft glam for every occasion!
Eyes: 
To create a beautiful soft-brown eyeshadow look, @glambylupys_ used our minimalistic four-shade "Meadow" palette. 
Apply shade "Chocolate" on the outer corner of the eyes while blending upwards in circular motions.

Use shade "Rosin" on the crease to soften the dark brown shade and blend until you achieve a desired gradient finish.

Use shade "Messing" to highlight the brow bone and further create a perfectly-blended gradient effect from darkest to lightest. '

Finally, use your finger to dip into shade "Golden Brown" and apply that all over the lid for a pop of shimmer! Drag "Chocolate" lightly over where the shades meet for a smoother transition into the glitter shade. 
Face:
For blushed rosy cheeks, @glambylupys_ used the LUX collection's Make Me Blush single-color blusher in shade "Just Peachy" to give her cheeks some warmth and further define her cheek bones. 
Use a fluffy powder brush and lightly tap on the product.

Don't start off with too much, remember a little goes a long way and our ultra-blendable formula is buildable!

Use light swiping and tapping motions from the apples of your cheeks towards your hairline to evenly deposit the blush for longer-lasting effects.
Lips: 
With such a soft eyeshadow look, you definitely want to make the lips POP! In her mesmerizing soft-glam creation, @glambylupys_ used a sexy red limited-edition Rouge bullet lipsticks for a creamy semi-matte finish, and then switched to a classic red from our Soft Velvet matte liquid lipsticks for a transfer-proof finish.
Our limited-edition LUX collection is still on on our website with low quantities remaining, so get yours before they sell out for good! 
Don't forget to tag @RomanticBeautyUSA in all your looks featuring our products for a chance to be featured in our social media as well as possibly collaborate with our brand!