Top Makeup Looks With Vivid Color Eyeliners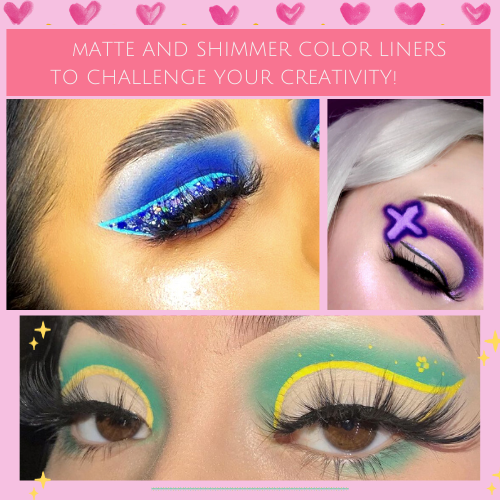 Every makeup lover knows eyeliner can either make or break a makeup look. While traditional black eyeliner will always be a safe choice for every occasion, Romantic Beauty's lineup of matte and glitter color liners invite you to step out of your comfort zone and take your makeup to the next level! While most color eyeliners have a bad reputation of flaking and cracking shortly after application, Romantic Beauty's color eyeliners are ultra-pigmented and guarantee an all-day wear.
In a variety of vivid shades in both matte and shimmer formulas, our color eyeliners will make you change your mind about adding color eyeliners to your daily makeup routine.
Color Bright Eyeliners :
Primary + secondary colors and even pastels! Romantic Beauty's variety of vibrant non-cracking liquid eyeliners deliver a complimenting color eyeliner to every eyeshadow look and an unbelievable opaque color payoff perfect to wear on its own. 
Available in 10 striking shades, the color eyeliners can be purchased as set on our website, or individually in our easy-to-shop Instagram page!
 The lightweight formulation effortlessly applies over eyeshadow to intensify any makeup creation and help you show off your creative side. Mix and match colors to make colorful looks even more dramatic, or to add a vibrant pop of color to any neutral look.
 Halo eye or cut crease, our long-lasting color liners help create perfect lines that don't flake or crack and are completely water-resistant! Challenge every aspect of color theory and explore the unlimited possible color combinations. 
 The ultra-thin applicator allows for ultimate creative freedom and unbelievable precision! Create festive eyeliner looks year round, master graphic eyeliner, or recreate your favorite artist's album covers on your eyelids! With Romantic Beauty's Color Bright liquid eyeliners, detailed eyeliner looks are always possible.
Color Glitter Eyeliners : 
Sometimes a pop of color isn't enough, and we got the perfect product for that too! Satisfy your craving for jaw-dropping eyes with the pigmented color + glitter combination of our popular liquid glitter eyeliners! The lightweight formula never clumps, and instead intensifies neutral-to-bold looks for a bold vibrant finish not for the faint of heart. 
Available in six lively shades, the adhesive-free glitter eyeliners are non-flaking and deliver an all-day waterproof wear. As with the Color Bright matte color eyeliners, these amazing glitter eyeliners can be purchased as a set on both our official website and our Instagram shop @RomanticBeautyUSA
Equipped with a thin applicator brush, the color liquid glitter eyeliner effortlessly glides on top of eyeshadow or on the bare lid and immediately delivers high-pigment color payoff with the perfect touch of shimmer.  
The variety of color compliments every eyeshadow creation with a gleaming sharp winged liner or a precise cut-crease look that won't peel off like other glitter eyeliners. The high-quality formula makes this a perfect eyeliner for both makeup newbies and professional MUAs alike!
The versatile glitter eyeliners can add matching color to eyeshadow looks, help achieve festive Instagram-ready looks, and is perfect for both formal occasions and to show off your love of color at festivals and raves. 
The Perfect Pair!
Pair these long-lasting matte and shimmer color liquid eyeliners together for the ultimate colorful eye look or put them over our high-performing eyeshadow palettes for endless makeup possibilities. 
You can sign up to our email newsletter for a 10% off code to snag these breath-taking eyeliners and fall deep in love with our brand. Don't forget to tag @RomanticBeautyUSA in all your looks featuring our products for a chance to be featured in our social media as well as possibly collaborate with our brand!